August 2020 Newsletter
When Admiral Michelle J. Howard was 12, she saw a show about people who attended U.S. military academies and realized that was what she wanted to do.
"You can't," her older brother said. "It's closed to women."She thought he was messing with her and went to her mother.
"He's right," her mom said. "But you're only 12. You might change your mind. And, if you don't and want to apply, you should apply. If you don't get in, we'll sue the government and take it to the Supreme Court." Even if it is too late for you to attend, she added, it wouldn't be for other women.
It proved a powerful lesson for the woman who went on to become the:
The highest-ranking woman in U.S. Arms Forces history,
Highest ranking African-American and woman in Navy history,
First woman to become a 4-star Admiral, and
Person in charge when the Navy faced down Somali pirates to rescue Captain Phillips (of Tom Hanks fame.)
We recently caught up with Admiral Howard to ask her advice about how to stay calm in a crisis and lead in these times of great uncertainty. Here are some highlights:
On keeping calm under stress
"My mother and father raised us to take a deep breath. Sometimes, you have to react in seconds—but honestly, not usually unless you're in combat. I think most people do not give themselves time to breathe. I know it's not easy but you've got to distance yourself from the information you're receiving. It's just information. It's not going to kill you."
On dealing with the unknown
"I would try to take time, and get my teams to take time, to think about what potential crises could be and then walk our way through how we would respond. If you are surprised by events, give yourself more time for your imagination to work. It's the art of the long view: identify the worst, best, and middle case scenario. You will go down one of those three avenues or something in between."
On the commitment to lead
"The most fundamental thing about leadership is you have to choose. You have to decide for yourself whether or not you want to be a leader. It's not something you are just going to fall into. It has to be something that drives your passion—knowing: I am the right person to get this in a better place. I am the person to make this better."
On stamina
"I read about women pioneers in the Navy and the 1800s and science; andI and tried to sort through the common characteristics of those who were successful in nontraditional roles. The stamina piece is pretty key: being not necessarily the strongest in the room but as fit as you can be because you need stamina for the journey."
On traveling light
"A lot of trailblazing women had a wonderful sense of humor. If you can't see the humor in your unique situation, you add more to your mental burdens. I talk about it as 'traveling light.' You could go another way and think: 'Oh my gosh, I have all these burdens, I just can't do it.' You could spend a lifetime focused on all that pain and anguish. And, I suppose you could have a life of satisfaction that way. But you would be missing out on a life of satisfaction tied to success."
On being yourself
"I have been asked to talk about leadership and women as leaders since I was a mid-grade officer. A lot of times people say talk about yourself. I say talking about myself may not help you. You be the best you. You're not going to be able to do me right."
On connecting with other women
"Women pioneers had quilting bees. It was not about the quilt. It was about hooking up with other women. The Massachusetts Conference for Women is the biggest quilting bee!"
LEARN MORE! Admiral Michelle J. Howard will join Golden Globe Award-winning actress Awkwafina, Pulitzer Prize-winning historian Doris Kearns Goodwin, and more amazing women at the 2020 virtual Massachusetts Conference for Women.
IN OTHER NEWS
Anti-Racism: Skills for the Workplace Now. "Anti-racism is a lifestyle that we're constantly committing to. You have to be anti-racist in the workplace and in your personal life, too…it's an active belief system in all parts of our lives," Britt Hawthorne said in a conversation presented by The Massachusetts Conference for Women, The Boston Globe, and State Street. Watch it here.
Best of the Archives: Check out the newly released sessions on Best Breakouts, an audio series featuring timeless insights from our archives. Listen here.
Highlighting a friend: The Harvard Business Review's podcast Women at Work is a trove of information and support for moving your career forward. Catch up on five seasons of conversations on HBR.org or wherever you listen to podcasts, and the team will be back this fall with more stories, interviews, and advice.
---
If there's anyone who can put the idea of success in perspective in 2020, it's Esther Wojcicki, the author and educator who raised three wildly successful daughters and wrote the book, How to Raise Successful People.
So, here's what she says: "We have to back up on our idea of success now because maybe we had long-term goals but now success is getting through this week without having problems. Maybe it's getting enough food. Maybe it's making sure that your child has a good sense of self this particular week. … I think we have to redefine success as being able to cope effectively with your family in this environment that we're living in today."
But "cope effectively?" How exactly do we do that in this dizzying year?
Wojcicki—who learned early on that looking for the positive was a good alternative to being depressed—has some ideas about that.
A woman who knows
This, after all, is the woman who as a young girl growing up in poverty took the initiative to get a lawnmower and mow her lawn so that her home, in her words, would look less like a dump.
It's the woman who, when her parents told her at the age of 15 that they would not pay for her to attend college because they wanted her to get married, took it as an opportunity, through work and scholarships, to pay her way.
And, this is the woman who raised two Silicon Valley CEOs (Susan of YouTube and Anne of 23andMe) and Janet, a professor at UC San Francisco—and has taught many accomplished students over more than 35 years while helping build Palo Alto High School's world-famous media arts program.
Small wonder people seek out her advice. Here are three key points that Wojcicki shares in the latest episode of the Conferences for Women podcast, Women Amplified.
Wojcicki will also be a speaker at the 2020 virtual Pennsylvania Conference for Women, where she will join award-winning actress Viola Davis, bestselling author Tara Westover and many other inspiring speakers. If you haven't secured your tickets, learn more here.
Start by looking for the opportunities

"See whether or not you can't take every crisis as an opportunity to do something new and different. That is one of the things that I'm doing right now, and that I think we all are forced into doing.
I think you have to do that, because the world is so difficult, and has so many challenges for so many people. I think it's important to spend at least part of the time thinking about what opportunity this challenge is giving you, and there are lots of opportunities."
"For example, we're all living together, so you have to get along with the people that are your family, or your friends, or whoever your significant other is. You have an opportunity to practice a lot of skills, interpersonal skills that you might not have had that opportunity to do before."
Another opportunity: "What can you do to make other people's lives better? The other day I went up and down the street. I have a lot of neighbors who are elderly, and I ended up getting a lot of extra organic tomatoes. I delivered a little care-package to them, and it was incredible.

One of them sent me a note and said how that made her day: just a little care package of tomatoes. … I think you can do little things like that every day to try to make your day better and other people's day better."

Recognize this as an opportunity to be a more effective parent

"I think the most important thing that parents can do today is to make their child feel like they are part of the team. It's a team effort. We're all in this together, and we all have our role, and we're all working together to make our lives better."
"One of the courses U.C. Berkeley instituted last year was called 'Adulting.' The reason they implemented that course was that they were getting hundreds, maybe thousands of kids who were entering the system and didn't have the basic skills for how to be an adult: how to do their laundry, how to cook, how to clean, how to do basic things that people do. It was because of the helicopter parenting syndrome where parents were doing pretty much everything."
"The crisis we're in now is an opportunity for us to use kids' free time to teach them adulting skills. David Brooks wrote a column [in The New York Times] in which he said: 'The Age of Coddling is Over.'
We're no longer coddling our kids because we can't coddle them the same way that we coddled them before. We all need them to be part of the team. We need to think of this as an opportunity to change the way we parent that is more effective for our kids rather than less effective."
"That's what I'm trying to do, and that's what I try to do in my classes is to teach kids how to think. How to think no matter what situation you are in."

In work and family life, focus on T-R-I-C-K (Trust. Respect. Independence. Collaboration. Kindness)

"Trust is the first part: trust and respect. And, the first person you need to trust and believe in and respect is yourself."
"You also want to make sure that the people that you surround yourself with are people who also trust you, and support you, and allow you to achieve whatever it is you want to achieve."
"I think TRICK – trust, respect, independence, collaboration, kindness—works even more effectively and is even more important in the corporate world during the crisis because we're all working from home.
And, when you work from home, you can't micromanage the other person. You have to trust them and respect them. And, the fact is that if the team feels like they are trusted and respected by their leader, they will rise to that occasion."
"Team psychology is so important these days, and trust and respect are part of that. And then giving people independence, and then allowing them to collaborate—and honestly, kindness. Kindness and compassion. That's what the world needs today. We all need that. We all make mistakes."
A final word of advice
"You have to believe in yourself and the world—that it's going to get better. The world has gone through a lot of serious epidemics in the past, and two terrible wars and people made it through, and we're going to make it through this."
Tune in for the entire conversation with Wojcicki on the Conferences for Women podcast, Women Amplified. Wojcicki will also be a speaker at the 2020 virtual Pennsylvania Conference for Women. Learn more here.
---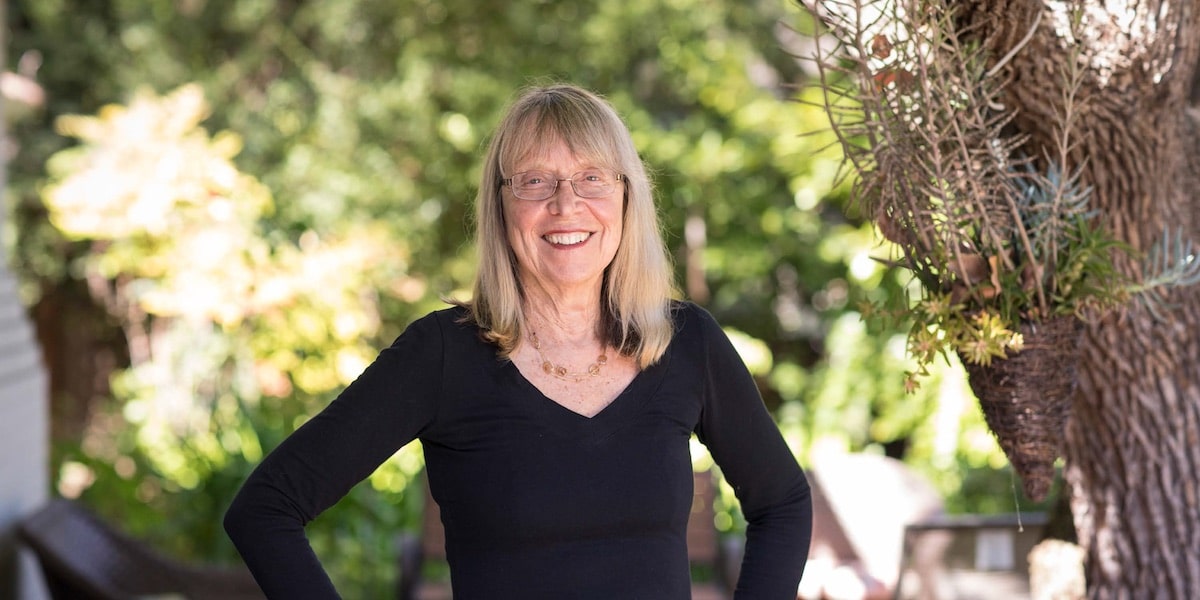 Hear from a legendary educator—and the mother of three CEOs—in this month's episode of Women Amplified.
Some would say that Esther Wojcicki is the rainmaker of success – she knows how to raise, educate and manage others so they reach their highest potential even in the most challenging and turbulent of times. This episode offers essential and simple lessons to help you navigate success in any climate. Learn how to make small changes to your approach to achieve radical results that can change the world—even when the world is changing around you.
+Please take our listener survey! (We're giving away free tickets to make it worth your while!)
---
"The most important thing is to try, not to give up, and not punish yourself, and not to tell yourself how terrible it is that you're stuck in this situation. Because if you do that, then you won't be able to think your way out of it. You have to be able to figure out there are solutions." —Esther Wojcicki

---
This Month's Guest:
ESTHER WOJCICKI is a leading American educator, journalist, and mother. A leader in blended learning and the integration of technology into education, she is the founder of the Media Arts programs at Palo Alto High School. Wojcicki serves as vice chair of Creative Commons, and was instrumental in the launch of the Google Teacher Academy. She lives in California. Her most recent book is HOW TO RAISE SUCCESSFUL PEOPLE: Simple Lessons for Radical Results. @estherwojcicki
Our Host:
CELESTE HEADLEE is a communication and human nature expert, and an award-winning journalist. She is a professional speaker, and also the author of Do Nothing: How to Break Away from Overworking, Overdoing, and Underliving, Heard Mentality and We Need to Talk. In her twenty-year career in public radio, she has been the executive producer of On Second Thought at Georgia Public Radio, and anchored programs including Tell Me More, Talk of the Nation, All Things Considered, and Weekend Edition. She also served as cohost of the national morning news show The Takeaway from PRI and WNYC, and anchored presidential coverage in 2012 for PBS World Channel. Headlee's TEDx talk sharing ten ways to have a better conversation has over twenty million total views to date. @celesteheadlee
---
Additional Resources:
Podcast: Play in new window | Download